Following is a sample parole opposition letter for copy/paste/signature purposes. Please email letters to: BPH.CorrespondenceUnit@cdcr.ca.gov or mail to:
Board of Parole Hearings
P.O. Box 4036
Sacramento, CA 95812-4036
Attn: Pre-Hearing Correspondence
Re: Matthew Ferguson—CDCR #T70382
Parole Hearing Date: July 21, 2022
Dear Chairman and Parole Board Members,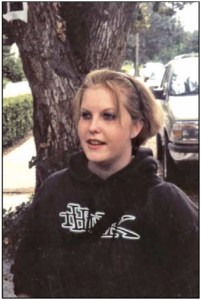 Please DO NOT grant a parole date to convicted murderer, Matthew Ferguson. On May 21, 2001, Angel Marie Allen, age 17, was brutally beaten and her throat viciously slashed by Matthew Ferguson. According to police and court records, Ferguson locked Angel in his bedroom and refused to allow her to leave. Loud voices described by fellow tenants and neighbors as argumentative and fearful, emanated from Ferguson's bedroom. Moments later, the loud voices ceased, and Ferguson exited his bedroom, locking the door behind him. When roommates questioned the commotion, Ferguson simply stated, "Angel is no more!" Angel was discovered lying in a pool of blood, nearly decapitated. Ferguson was on the run for 15 hours before being apprehended by local law enforcement.
Matthew Ferguson was allowed to plea bargain an absolute First-Degree Murder conviction down to Second Degree Murder. He received a 12 Year to Life term, plus one year for the use of a weapon. This plea bargain was over the vehement objection of the family. There is every reason to believe that he will re-offend as three (3) years prior to murdering Angel, Ferguson was arrested for assaulting a young woman with a knife. Fortunately, the intended victim was rescued by her boyfriend, escaping certain death.
On July 21, 2022, Angel Marie Allen's family must endure the stress and uncertainty of a 5th parole hearing. (Note: During Ferguson's 3rd parole hearing, his mental illness diagnosis was bipolar disorder with characteristics of personality disorder.) Matthew Ferguson must be held accountable for his personal choice to execute an innocent young girl and must continue to accept the consequences of his actions. As a result of his complete disregard for human life, lack of remorse, the heinous nature and brutality of this crime and his past criminal and violent history, justice demands this convicted murderer be denied parole. He must remain behind bars, where he can never again harm another innocent human being. Angel Allen had so much to offer this world; so many wonderful plans and dreams for her future. She will never get a second chance at life; she is gone forever. Therefore, Matthew Ferguson does not deserve a second chance or the privilege of freedom.
Please deny parole to convicted murderer, Matthew Ferguson, for the maximum time allowed by State of California law.
Thank you for your consideration.
Sincerely,